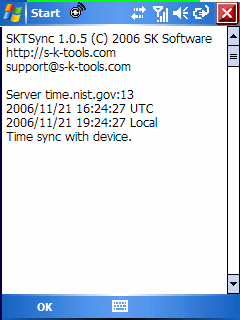 Tool for sync time with NIST and SNTP time servers.
Support WM2003(SE), WM5 PocketPC, WM5 Smartphones, WM6 Classic, Professional and Standard.


Parameters:
tsync.exe [#SERVER(server)] [#SILENT] [#ONLYSHOW] [#NIST|#SNTP] [#KEEPCACHE] [#CONNECT] [#CONFIG]
default (if not exist configuration file sktsync.txt):
tsync.exe #SERVER(time.nist.gov) #NIST
if defined only #SNTP then used server ntp2.usno.navy.mil

If you use #KEEPCACHE parameter then TSync will keep cache file before sync with NIST server

If defined #CONNECT TSync will try establish connection. NOTE: conection can be active after TSync exit.

You can use alias :SKTSYNC for call this program from shortcuts.


Terms of Use
Privacy Policy
RSS
Copyright © 2004 - 2022 SKKV Software